The DuckDuckGo Business Model – How Does DuckDuckGo Make Money?
Executive Summary:
DuckDuckGo is a search engine that is focused on user privacy. As such, it does not track its user's browsing history, nor does it collect and store any data about them.
DuckDuckGo makes money via keyword advertising, affiliate commissions, as well as licensing fees for its tracker radar tool.
Founded in 2008, DuckDuckGo has grown to become one of the world's most frequently used search engines. Today, over 3 billion searches are performed on its platform every month.
What Is DuckDuckGo?
DuckDuckGo is a search engine that is focused on privacy. To use it, you simply head to the firm's website and type in your search query.
Just like Google, you can search for pretty much anything. This includes websites, images, videos, shopping items, or news.
But as opposed to Google, DuckDuckGo puts a great deal of focus on ensuring user privacy. In essence, the firm does not track and record its user's browsing history (it doesn't even log the IP address).
Because DuckDuckGo doesn't track you, its search results are not customized and tailored to your previous browsing history. Therefore, no 'targeted' ads are shown on its platform.
The company, in some instances, scrapes content from other search engines like Bing (but not Google) to provide more specific search results.
DuckDuckGo is, furthermore, integrated with a few third-party platforms like Apple's Maps or Wikipedia.
Apart from its search engine, users can also download the firm's mobile phone app (available on Android and iOS) and enjoy a privacy-focused browser.
DuckDuckGo Company History
DuckDuckGo, headquartered in Paoli, Pennsylvania, was founded in 2008 by Gabriel Weinberg who remains the company's CEO to this date. Weinberg, from an early age, showed an interest in anything that was remotely technology-related.
When he was in his teenage years, he'd start building various software applications for his parents' businesses (his dad worked as an infectious-disease doctor while his mom ran her own art and clothing store).
His first invention was a system that would allow his mother to process orders for her store online.  For his father, he built an online bulletin board that would help him answer people's questions about HIV and AIDS.
In 1997, Weinberg enrolled at MIT where he pursued a degree in physics. While studying, Weinberg would continue to pursue different entrepreneurial endeavors.
One of those became Learnection, a portal for teachers to put lesson plans online. The company unfortunately failed.
In 2003, when he enrolled at MIT to pursue a master's degree in technology policy, he'd start his next business.
It was called NamesDatabase, which coincidentally, grew in parts out of Weinberg's experiments with search.
In the beginning, he'd create a tool that would make up combinations of common names and put it out on the web to see what happens. Some of those pages would end up on Google's top search results as people, for instance, were searching for friends and family that happened to possess those names.
NamesDatabase eventually pivoted into a service that would allow them to reconnect with old friends. In 2006, Classmates.com ended up purchasing the company for $10 million.
Soon after, in 2007, his wife got a job at GlaxoSmithKline in Collegeville, which made the couple relocate to the Philadelphia area. Weinberg would soon start to feel isolated, so he launched a tech meetup to connect with other online entrepreneurs.
They'd regularly exchange ideas and Weinberg seemed eager to try them all. Over the course of the next year, he'd pursue around 25 to 30 ideas just to see if anything sticks.
One of those ideas became I've Got a Fang, a crowd-sourced website where users could add authoritative URLs on certain topics. His thesis was that people-led curation would be a better indicator of quality content than Google's algorithms. The website failed to get any traction and was shut down soon after.
Nevertheless, the idea for human curation stuck with him. The combination of his learnings from I've Got a Fang with the dismissal of his next idea ultimately led to the creation of DuckDuckGo.
After I've Got a Fang failed, Weinberg decided to try his next idea: Tldscan, which was a series of websites that crawled the web for structured information and uploaded it in a condensed and readable format. Examples would include sports statistics from various sources.
At its peak, Tldscan would attract over 50,000 visitors per day and generate $500 in revenue. Google eventually decided to blacklist Tldscan, which forced Weinberg to shut it down.
The symbiosis of trying to surface useful information via scraping relevant content (Tldscan) and human validation (I've Got a Fang) became the driving motivation for his launch of DuckDuckGo.
At the beginning of 2008, Yahoo launched a service named Build Your Own Search Service (BOSS), which allowed anyone to build a search engine based on Yahoo search results. Weinberg then built other features on top of that, for instance by surfacing results on computational queries from Wolfram Alpha.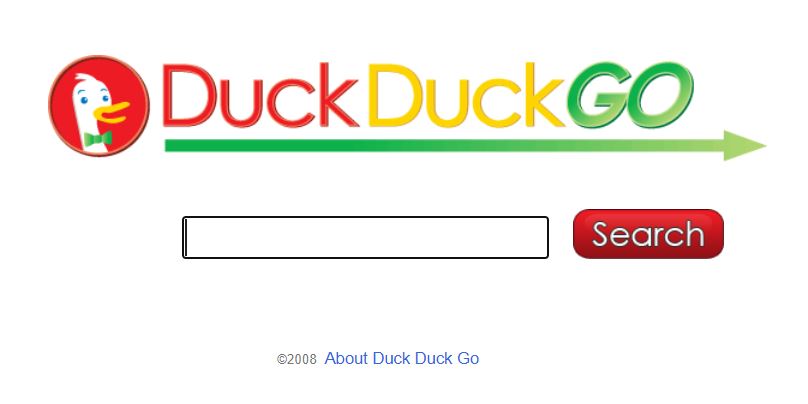 DuckDuckGo, which was inspired by a game Weinberg's 2 children played called Duck, Duck, Goose, launched a few months later in September 2008.
In its early days, the search engine wasn't putting too much focus on privacy as a differentiator. Instead, as outlined by this TechCrunch article from 2008, DuckDuckGo simply put a twist on what it deemed a meaningful search result.
Back in the day, online marketers would consistently game Google and trick it into surfacing spammy sites in order to turn a quick buck. DuckDuckGo put that concept on its head by only surfacing legitimate sources, such as Wikipedia or credible news organizations.
Furthermore, as opposed to Google, his intentions were never to squeeze out every dollar he could out of his users. In a 2012 interview with the Washington Post, he emphasized that he likes "the Craigslist model. Stay lean. Focus on doing what you do well."
Two years after launching DuckDuckGo, Weinberg (who was still working on it by himself) would eventually pivot towards a more privacy-oriented approach.
To emphasize just how much he cared about privacy, he spent $7000 to put up a 4-week long billboard in San Francisco's tech-heavy SOMA district which read "Google Tracks You. We Don't."
This little PR stunt along with exposure on forums like Hacker News resulted in a 100 percent increase of DuckDuckGo's traffic. By the beginning of 2011, over 5 million queries were entered on its platform every month.
Furthermore, Weinberg would continue to expand DuckDuckGo's search functionality. Just a few months after the Google billboard, DuckDuckGo would announce its partnership with Yelp, which helped it to display user-generated recommendations.
The maturation of its platform allowed Weinberg to raise his first-ever round of venture capital funding. Union Square Ventures, along with a few angels, would invest $3 million in the company's Series A (announced in October 2011).
Then, in 2013, the platform's growth essentially exploded fuelled by Edward Snowden's revelations. Common people, for the first time in their life, were told by someone from the inside that the United States government (in this case the NSA via its PRISM program) was spying on them.
The NSA was authorized to retrieve and store user data (such as names or private chats) from platforms such as Apple, Google, or Facebook. On top of that, both Apple and Mozilla allowed their users to select DuckDuckGo as their default search engine within their browser products (i.e. Firefox and Safari).
As a result, DuckDuckGo was able to double its monthly traffic from around 54 million searches to over 105 million queries every month. That same year, in 2014, DuckDuckGo became profitable for the first time ever – and remains so to this date.
Being profitable allowed DuckDuckGo to venture out into other areas of internet life. On the heels of another $10 million Series B round, the firm announced it was launching a browser mobile app as well as tracking blockers (in the form of a browser extension).
Another, rather odd achievement became DuckDuckGo's acquisition of the domain name duck.com. Up until 2018, it was Google who owned the domain after acquiring video codec startup On2 back in 2009.
Many of DuckDuckGo's users would actually enter the domain in hopes of being directed to the search engine's website. Instead, they would be forwarded directly to Google. Google eventually ceded control of the domain to DuckDuckGo.
The biggest form of validation came when, in March 2019, Google finally added DuckDuckGo as a possible default search engine in its Chrome Browser.
Furthermore, starting from March 2020, Google was forced to include other search engines within its Android operating system. The change was a result of a $4.8 billion fine issued by the European Union, which claimed that Google used its Android operating system to protect its search dominance.
As a result of that fine, Google was forced to surface different default search engine options when users set up their Android devices. The options were decided on a "fourth-price" auction system where search engine operators like Bing or Yahoo would pay for every user that signed up via Android (individually for each country).
In September 2020, DuckDuckGo found itself only being able to be selected for 4 different European countries. The company was simply unable to match the prices its competitors, in particular Bing (via Microsoft) or Yandex, were able to pay.
The growth allowed DuckDuckGo to raise another round of funding December 2020, netting them an additional $100 million from investors such as Thrive Capital. Portions of that capital were used to launch a privacy-focused browser for Android and iOS, which would put it in competition with the likes of Safari, Brave, Chrome, or Mozilla.
DuckDuckGo started the new year by hitting the inaugural mark of 100 billion searches over the course of its existence. Today, it is the #2 search engine in a variety of countries such as the U.S. or Australia.
DuckDuckGo, furthermore, employs close to 300 people – most of them still based in its Paoli headquarters.
How Does DuckDuckGo Make Money?
DuckDuckGo makes money via keyword advertising, affiliate commissions, as well as licensing fees for its tracker radar tool.
The business model of DuckDuckGo is predicated on being privacy-first and thus differentiating itself from the likes of Google who use tropes of private data to drive revenue.
To that extent, the company not only offers a privacy-focused search engine but a browser as well. The browser, furthermore, allows the company to build valuable rails. Within the browser, its search engine is the default option, which then acts as a quasi marketing channel for new users.
In the future, it could also monetize the browser itself, for example by offering privacy-focused software products such as VPNs.
Without further ado, let's dive into each of DuckDuckGo's revenue streams in more detail below.
Keyword Advertising
The majority of DuckDuckGo's revenue is generated via keyword advertising. Advertisers, vis-à-vis an auction system, bid on the right to appear on top for certain queries.
They then appear, depending on the number of ads shown, on either the top or any subsequent position in the search result. These listings are then marked as an ad.
DuckDuckGo makes money every time a user clicks on one of these ads. The amount paid is dependent on the final bid with which the advertiser won the keyword auction.
To keep their money in check, advertisers often only commit a limited budget for each of these keywords.
Google, for all intents and purposes, generates the majority of its revenue via keyword advertising as well. Yet, the search engine giant uses various tracking technologies to better target users and serve them more relevant ads.
DuckDuckGo believes that targeted ads are not a necessity, though. The company believes that the keyword itself is enough to serve a relevant ad.
Affiliate Commission
Another big chunk of DuckDuckGo's revenue comes from the affiliate commission it receives whenever a user clicks on a product and ends up buying it.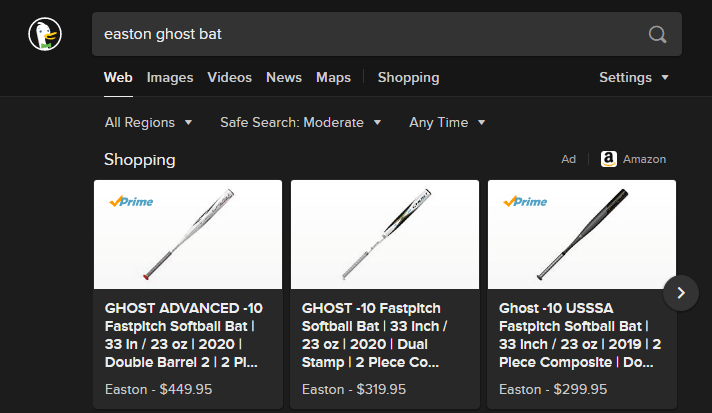 DuckDuckGo works together with the likes of Amazon, eBay, and other partners to promote products on their behalf.
For certain queries, predominantly product-focused ones, a selection area will appear that allows you to select and buy products from these partners.
For DuckDuckGo to make money, the product has to be bought within the so-called attribution window.
For instance, the user would have to make a purchase no more than 24 hours after initially clicking on the ad.
With some partners, DuckDuckGo would even get paid if the user ends up buying a different product that he/she initially clicked on (a concept called cross-order attribution).
If the user ends up buying a product, DuckDuckGo ends up being paid a percentage of the overall order volume.
The actual percentage is oftentimes dependent on the category (for instance, fashion products pay out significantly more than electronics items) as well as the negotiated rates.
Tracker Radar
Launched in March 2020, Tracker Radar is a continuously updated data set about hidden trackers that companies like Google or Facebook employ.
These trackers can pick up various data points, including a user's shopping, browsing, location, or search history. From those, they can often infer your age, gender, ethnicity, interests, hobbies, and many other characteristics.
DuckDuckGo's Tracker Radar gives an overview of the most commonly used trackers as well as their tracking behavior (i.e. what privacy policy is used or how the cookie behaves).
That information is made publicly available by DuckDuckGo and can be accessed free of charge. Yet, if someone intends to source it for commercial use, a licensing fee has to be paid to DuckDuckGo.
DuckDuckGo Funding, Valuation & Revenue
According to Crunchbase, DuckDuckGo has raised a total of $113 million across three rounds of venture capital funding.
Investors into the company include Union Square Ventures, OMERS Ventures, Scott Banister (founder of IronPort), Joshua Schachter (co-creator of Memepool, amongst others), or Peter Hershberg (co-founder of Reprise Media).
As a private company, DuckDuckGo is not obliged to share any revenue or valuation figures. Nevertheless, CEO Weinberg in an interview with Philly Mag shared that the company generated over $100 million in revenue for 2020.
Google, for reference, made around $183 billion over the same time span. Alphabet, its parent company, is valued at around $1.35 trillion. That is equal to a 10x multiple.
Applying roughly the same multiple to DuckDuckGo's business, we can safely assume that the company can at least be valued at $1 billion, making it a startup unicorn.
Who Owns DuckDuckGo?
DuckDuckGo is fully owned and operated by its parent company DuckDuckGo, Inc., which is registered and based in Paoli, Pennsylvania.
No public records are available with regards to the detailed ownership structure. These will be revealed once DuckDuckGo goes public, which at the time of writing, has not been indicated before.
It can be assumed that CEO Weinberg remains to be the company's majority shareholder. Apart from Weinberg, Union Square Ventures as the lead investor in the firm's Series A round will probably own a significant chunk of shares.
Other Series A investors will likely follow. OMERS Ventures' stake would probably be among the smallest despite having invested $10 million in the firm's Series B round.
At the time of funding (August 2018), DuckDuckGo was already a well-established business and ran a profitable business for 4 years straight.
When the funding was announced, DuckDuckGo itself emphasized that the firm was not reliant on the cash injection but wanted to take the money to invest in personnel and other products.