PACI allocates morning period to Citizens only, Cards Collection open for all
Kuwait City, 12th September, 2020 :
The Public Authority for Civil Information allocates the morning period to receive citizens and citizens of the Cooperation Council from 9 am to 1 pm, and the evening period from 2 pm to 6 pm to receive arrivals in the main building in South Surra to complete and record transactions.
For distribution of Civil ID cards the authority continues to deliver the cards as usal, from 6 AM to 6 PM for all Kuwaiti and Expats.
The authority has appealed to Kuwaitis and expatriates to complete their transactions online via the authority's website www.paci.gov.kw and book an appointment for visiting and authority will abide by these dates.
No transaction will be complete for those who don't have a prior appointment reports Al Rai.
All the visitors are requested to adhere to health measures such as, social distancing and wearing face masks.
---
الهيئة العامة للمعلومات المدنية  تخصص الفترة الصباحية لاستقبال المواطنين ومواطني مجلس التعاون من الساعة 9 صباحا وحتى الساعة 1 ظهرا والفترة المسائية من الساعة 2 ظهرا وحتى الساعة 6 مساء لاستقبال الوافدين بالمبنى الرئيسي بجنوب السرة لانجاز وتسجيل المعاملات
---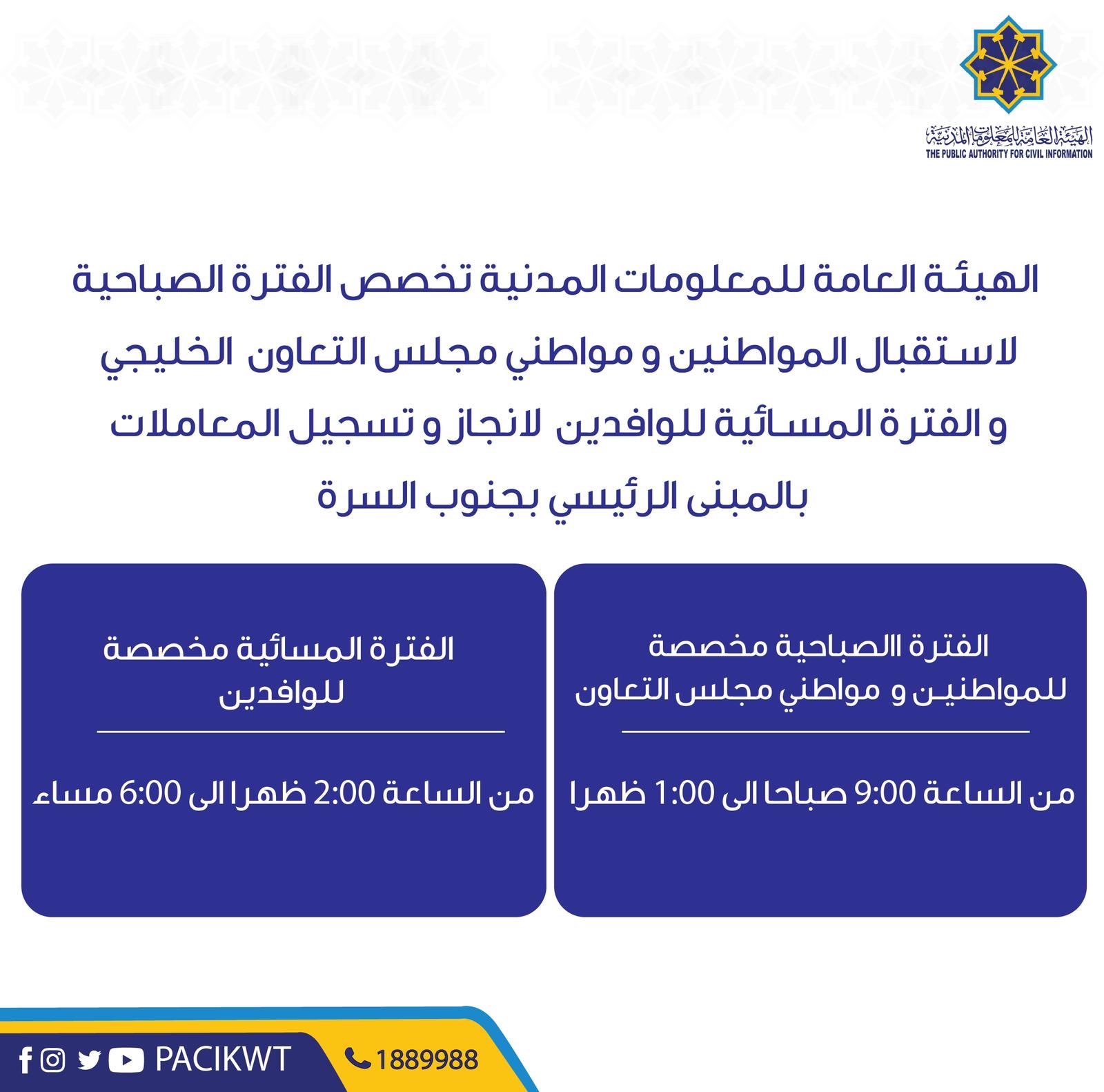 ---
Non renewal of work permits for 60 years affects US Army, iiQ8
---
Indian Embassy asked All Indian Engineers to Register with Embassy, iiQ8
---
iiQ8 News