Kuwait City, 19th March 2022:
New Rules for Entry visa to Kuwait, Valid for 3 months, iiQ8 info
Entry visa now valid for 3 months in #Kuwait
The government has lifted most anti-#COVID-19 measures and relaxed travel curbs
##kuwait has said it will reintroduce the three-month entry visa next week as the country has largely eased COVID-19 restrictions.
The Interior Ministry said the three-month visa will take effect as of Sunday.
"The General Directorate of Residency Affairs announces the resumption of the validity system of entry visas for three months starting from March 20," the ministry said.
Last month, the Kuwaiti government lifted most anti-coronavirus restrictions and relaxed travel curbs after a marked drop in infection rates in the country of around 4.6 million people.
The relaxed measures allow unvaccinated travellers to enter the country, provided they present a negative PCR test result conducted 72 hours before the flight, go into seven-day domestic quarantine after arrival and do another negative PCR test on the seventh day to end the quarantine.
The fully vaccinated travellers are exempted from pre-arrival and on-arrival PCR tests as well as home quarantine.
الإعلام الأمني: عودة العمل بصلاحية مدة تأشيرات دخول البلاد إلى 3 شهور اعتبارا من يوم الاحد 20/3/2022
Security media: Returning to work with the validity of the visas to enter the country to 3 months, starting from Sunday 20/3/2022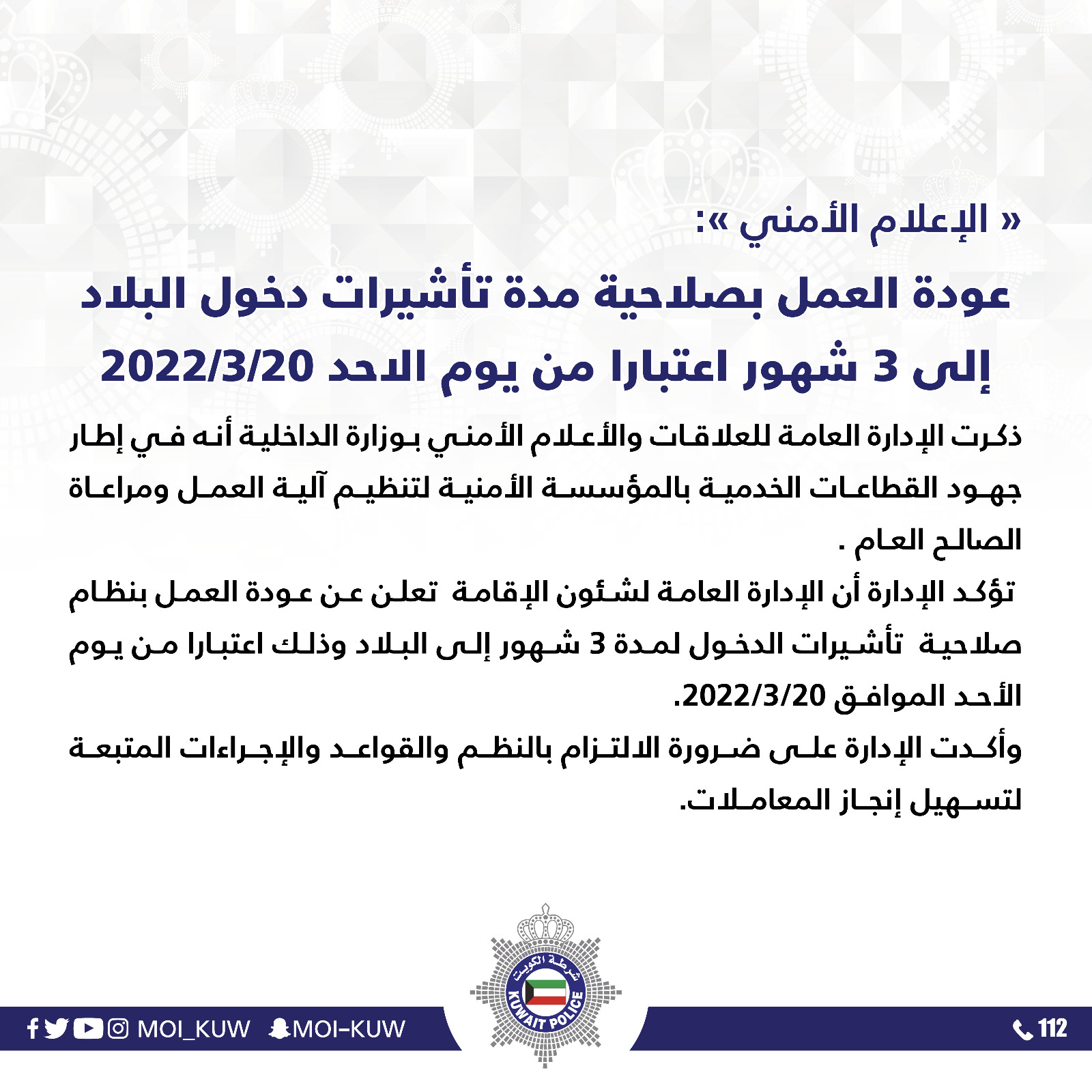 Kuwait may grant a New Amnesty For illegal Residents, iiQ8 info
---
Kuwait Public workers can cash out on unused vacation days
---
COVID19 Cases start to rise again globally, says WHO, iiQ8 info
---
China Earlier, stricter measures to fight Omicron Virus, iiQ8 info
---
Kuwait Entry Visa with 3 Months starting from 20th March, 2022, iiQ8 info