Kuwait City, 20th January 2022:
Pre-appointment booking service for COVID-19 testing
خدمة حجز موعد مسبق لفحص كوفيد-19
BOOK APPOINTMENT FOR COVID-19 PCR IN HEALTHCARE CENTERS
APPOINTMENT CONDITIONS:
Appointments ONLY available for the Age Group from 12 years to 18 years of age.
Individuals must have received NO DOSES of the COVID-19 vaccine to book appointment (unvaccinated).
Individuals must NOT have tested positive for COVID-19 within the past 10 days (isolation period) to book an appointment.
Appointments only available at Health Centers belonging to the Governorate based on Civil ID address.
If you miss the appointment, wait until the next day to book a new appointment.
If you have taken a COVID-19 PCR test in Kuwait previously, you will NOT be able to book an appointment for the next 6 days from the day of your last test.
PCR test result will be available on MOH "Immune" App.
CLICK HERE TO MAKE APPOINTMENT ONLINE – PCR IN HEALTHCARE CENTERS IN ENGLISH
or


CLICK HERE TO MAKE APPOINTMENT ONLINE – PCR IN HEALTHCARE CENTERS IN ARABIC

OR Scan the QR Code below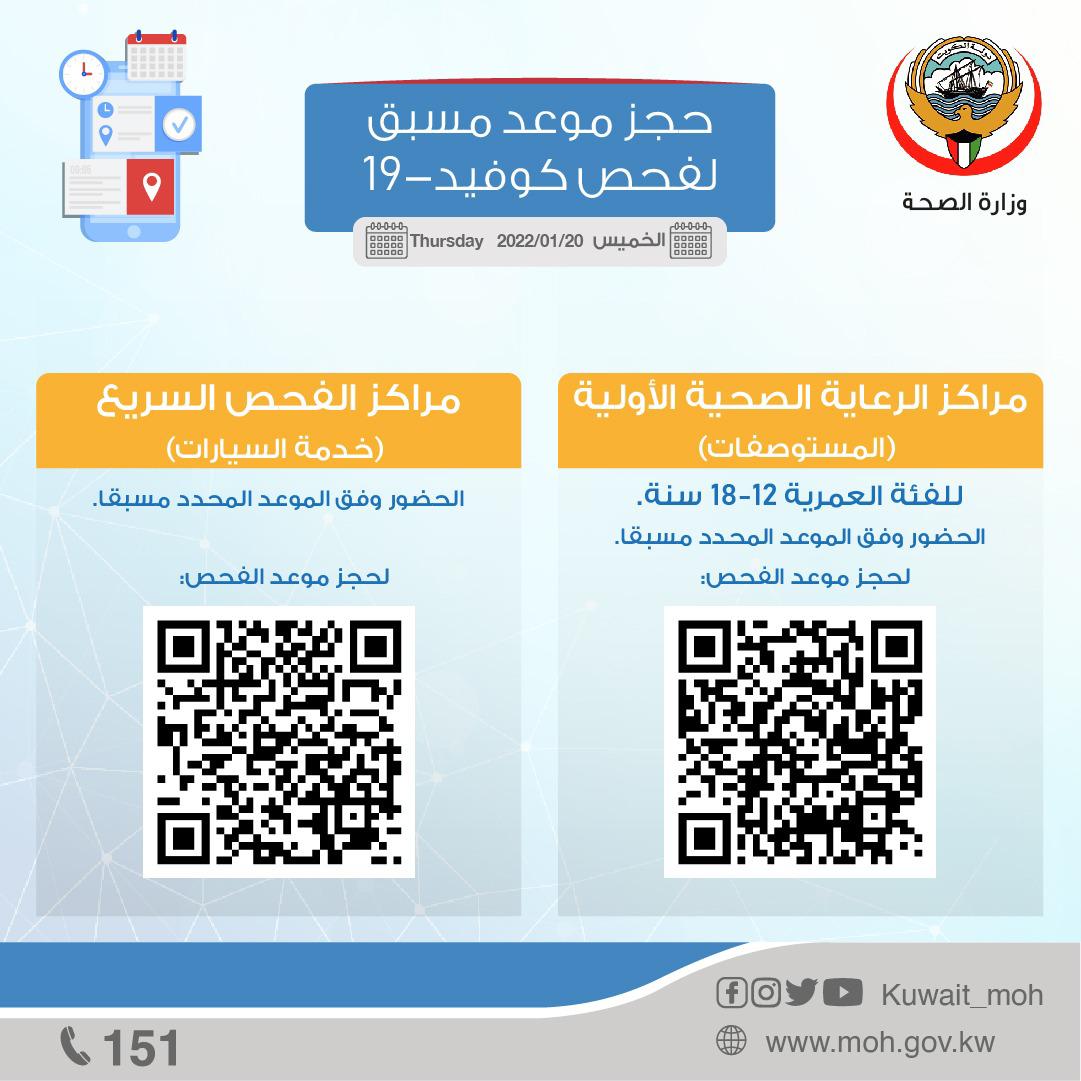 ‎حجز موعد فحص كوفيد ١٩ في مراكز الرعاية الصحية الأولية
ملاحظات هامة:
مواعيد الفحص متاحة فقط للأفراد من الفئة العمرية 12 عامًا إلى 18 عامًا
لحجز موعد فحص يجب ان لا يكون الفرد قد أخذ جرعة واحدة او اكثر من لقاح كوفيد-19.
لحجز موعد!يجب ألا تكون نتيجة المسحة إيجابية لـ كوفيد-19 خلال الأيام العشرة الماضية (فترة العزل).
المواعيد متوفرة فقط في المراكز الصحية المحددة التابعة للمحافظات بناءً على عنوان البطاقة المدنية.
في حال عدم حضورك في الموعد المحدد, يمكنك حجز موعد جديد في اليوم التالي مباشرة
إذا أجريت أي مسحة في دولة الكويت بالسابق، فلن تتمكن من حجز موعد جديد إلا بعد مرور 6 أيام من اخر مسحة .
ستكون نتيجة اختبار فحص PCR متاحة من خلال تطبيق مناعه
---
What is SiDi Wallet ? , Simple Digital Wallet Download and features
---
𝐌𝐚𝐠𝐢𝐜𝐚𝐥 𝐍𝐢𝐠𝐡𝐭, 𝐖𝐞𝐞𝐤𝐞𝐧𝐝 𝐃𝐢𝐧𝐧𝐞𝐫 𝐁𝐮𝐟𝐟𝐞𝐭, 𝐋𝐮𝐧𝐜𝐡 𝐁𝐮𝐟𝐟𝐞𝐭 at RoofTop Offers in Kuwait
---
Kuwait Ministry of Social Affairs issues circular regarding detailing working hours, terms and conditions