New cases and deaths reported in Kuwait in last 24 hours: 22.07.2021
Kuwait City: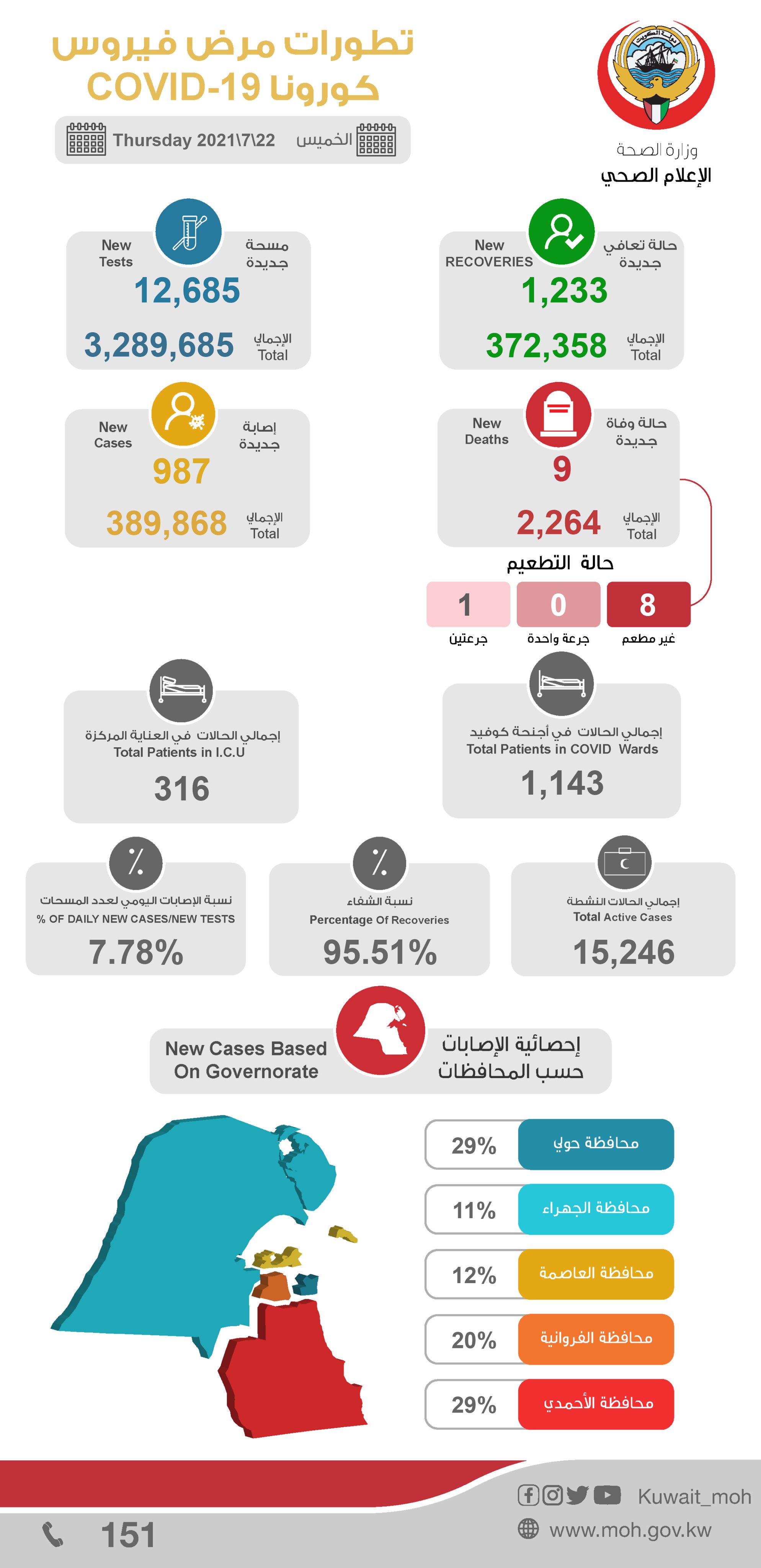 987 new COVID infections; 9 deaths
Kuwait Ministry of Health Thursday registered nine coronavirus-related deaths; eight not vaccinated,
while recording 987 infections in the past 24 hours.
Ministry spokesman Dr. Abdullah Al-Sanad, in a statement to KUNA, said total deaths reached 2,264 and registered infections topped 389,868. He added that 1,233 people recovered in the past 24 hours to reach a total of 372,358, adding that percentage of recoveries to infections was 95.50.
Al-Sanad said there were 316 COVID-19 patients in intensive care units, while 15,246 people were receiving medical care.
He added there were 1,143 patients in hospitals.
He said health care workers conducted 12,685 swab tests in the past 24 hours to reach almost 3.3 million since outbreak of the pandemic.
He added percentage of new cases-to-swab ratio was 7.78. Al-Sanad said percentages of infections in
Ahmadi governorate was 29,
Hawally 28,
Farwaniya 20,
Jahra 11 and
Capital 12.

#Kuwait #الكويت #الكويتي #الكويتيات #Covid19 #CoronavirusPandemic #coronavirus #coronaviruslockdown
Ministry of Health Health / COVID-19 PANDEMIC LATEST UPDATES –  22/07/2021
Kuwait MOH Confirms 997 new cases of #Coronavirus #Covid19 & 9 new deaths in the last 24 hours. ( 389,868 Total number of cases registered )
9 New death cases ( Total 2,264 )
1,233 New recovery cases ( Total 372,358 )
15,246 Active cases
ICU 316
New Tests 12,685 ( Total 3,289,685 )
% of Daily new cases / new test 7.86%
% of Recoveries 95.51%
Total patient in covid wards 1,143
#الكويت #الكويتي #الكويتيات #Covid19 #Coronavirus #الكويتيات_قطر
How to register for vaccination in India? COVID-19 vaccine, iiQ8
---
COVID-19 Vaccination process in India, iiQ8, Corona Vaccination steps in India
---
Change Vaccine Registration Details, iiQ8, Modify Corona Vaccine Kuwait
---
---
 

---
---